Her er mine for tiden tilgjengelige kunstverk. Les alt om kjøp av kunst her: (EN) These are my currently available artworks. Read everything about buying art here: Kontakt og info / Contact and info

Malerier / Paintings
Se mer her / See more here: Malerier / Paintings
Tegninger / Drawings
Se mer her / See more here: Tegninger / Drawings
Grafikk og prints / Prints
Original grafikk og prints. Les mer om de ulike typene nederst på siden her / Original and reproduction prints. Read more about the different types at the bottom of this page: Grafikk og prints / Prints
Oljestudier / Oil studies
Denne serien oljestudier er laget med oljemaling på bomull (lerretplater) og måler 30 x 30 cm. Bildene kan kjøpes med eller uten ramme. / This series of oil studies are made with oil paint on cotton (canvas boards) and measures 30 x 30 cm. Paintings can be bought with or without frame.
Se alle her / see all here: Oljestudier / Oil studies
Minigouache
Denne serien minimalerier er laget med gouache på papir og måler 12 x 12 cm (motiv 6×6 cm), ramme er inkludert i prisen. / This series of mini-paintings is made with gouache on paper and measures 12 x 12 cm (motif 6×6 cm), frame is included in the price.
Se alle her: / See all here: Minigouache
Buttons
Denne serien knapper er tegnet med vannfast blekk på tre, lakkert på forsiden, og måler ca 4 cm i diameter. Nål er pålimt på baksiden, og alle er signerte og nummererte bak. Knappene er pakket inn i håndlagde origami-esker laget av gjenbrukt avispapir og papp. / This series of buttons is drawn with waterproof ink on wood, varnished on the front and measures about 4 cm diameter. A needle is glued to the back, and all are signed and numbered on the back. The buttons are packaged in hand-made origami boxes made from reused newspaper and cardboard.
Se alle her: / See all here: Buttons
Samarbeid med andre / Collaborations with others
Skarheim: Sangbok / Song book
Sangboka «Tvibi» fra Skarheim inneholder sangtekster og noter fra musikkalbumet «Tvibi», og kunstverk fra meg som illustrasjoner til hver sangtekst, samt på for- og bakside. Sangboka kan kjøpes direkte fra Skarheim med VIPPS til nr: 95465178. Sendes i hele norge for 350 kr, inkludert porto. Noen eksemplarer finnes også på atelieret mitt i Oslo dersom du vil hente der.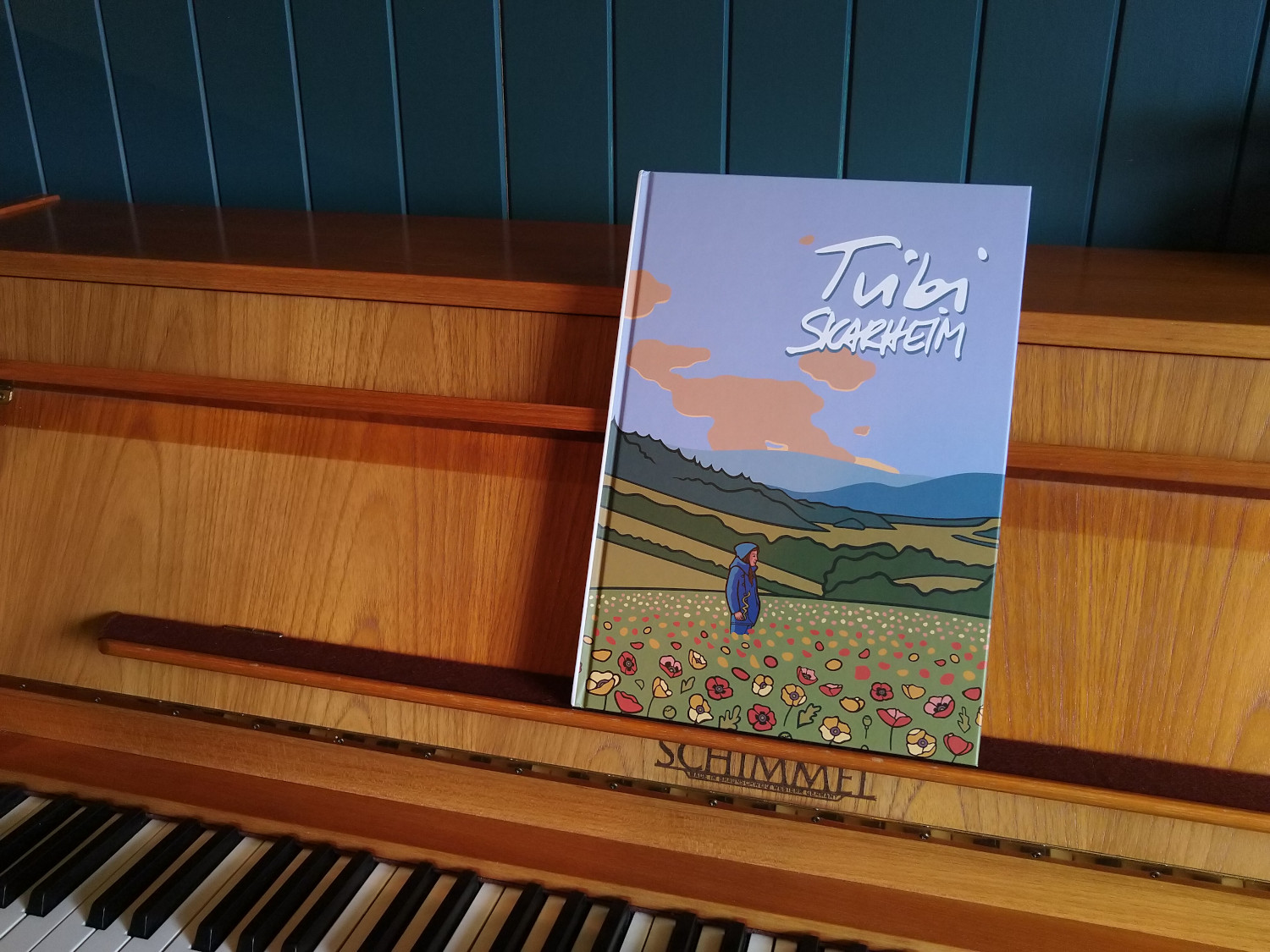 #Art-it: Klær / Clothes
Noen av kunstverkene mine er tilgjengelige som print på klær gjennom #Art-it. Plaggene printes på bestilling. Her er noen eksempler. / Some of my artworks are available as print on clothes through #Art-it. Garments are printed on demand.
Se alle her / See all here: https://artit.urbanartwear.com/collections/oslo-drawings-by-i-t-hammar
---
Les alt om kjøp av kunst her / Read everything about buying art here: Kontakt og info / Contact and info